About
Dresser Trap Rock, Inc.
Established in 1914, Dresser Trap Rock Inc. continues as one of Wisconsin's oldest industries.
Established in 1914, Dresser Trap Rock Inc. continues as one of Wisconsin's oldest industries. The company name originates from the kind of rock being crushed on location: trap rock, which is a dark, fine-grained igneous rock.
Dresser Trap Rock is unique, bluish-gray basalt. As boulders, it exhibits subtle hues of gray, blues, reds, pink, and purples. In crushed aggregate form, the dark gray color dominates, creating a unique richness unattainable with any other ground cover.
Known as one of North America's hardest rock, trap rock is actually altered basalt, or volcanic (non-porous) rock with irregular seams. The quality of trap rock deposits vary, in the same manner other mineral deposits vary.
The Dresser trap rock deposit remains the hardest concentration of this basalt-type rock in America; so hard, that Dresser Trap Rock boulders were utilized by NASA for testing drills employed on the moon probe.
Today, Dresser Trap Rock is consumed extensively in bituminous and concrete applications, erosion control, ice control, road construction, landscaping, headlap, and ballast for many railroads throughout the Midwest.
Landscape designers specify gray rock to form picture-perfect borders for foundations, driveways, sidewalks, pools, patios, and other applications.
As an ideal background color, trap rock compliments flowers, shrubs, trees, and all colored structures. What's more, trap rock's innate hardness is ideal for building natural looking, long-lasting structures such as waterfalls and retaining walls.
Beauty and Value that Endures
Count on Dresser Trap Rock to retain its original shape and luxurious color forever. It is inert and unaffected by sun, rain, or temperature.
Landscaping with Dresser Trap Rock is a wise investment. You will be rewarded with a lifetime of visual pleasure without maintenance, plus added value to your home, building or complex.

Watch a Video of a Quarry Shot
The first step in processing our trap rock.



"High quality products. Great service!"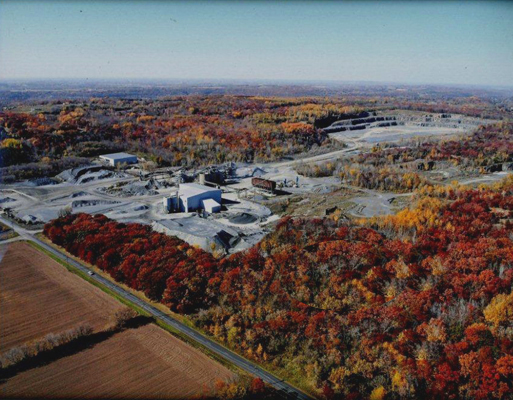 P.O. Box 517, 1000 East Ave. N, Dresser, WI 54009